Italian energy giant Eni has signed an $8 billion gas deal in Libya with Libya's state-run National Oil Corporation as Prime Minister Giorgia Meloni visits Tripoli. This is the first major project in Libya since early 2000 and comes as European governments are looking for alternatives to Russian gas.
Gas Production and Development
The deal involves the development of two offshore gas fields. The combined gas production from the two structures will start in 2026 and reach a plateau of 750 million of standard gas cubic feet per day. Production will be ensured through two main platforms tied in to the existing treatment facilities at the Mellitah Complex, which is located 80 kilometres (50 miles) west of the capital.
Carbon Capture and Storage
In addition to the gas production and development, the project also includes the construction of a carbon capture and storage (CCS) facility at Mellitah. This will allow for a significant reduction of the overall carbon footprint. The overall estimated investment for the project will amount to $8 billion, with a significant impact on the industry and the associated supply chain.
Gas Deal in Libya: Economic Impact
Eni currently holds an 80 percent share of Libya's gas production. The agreement was signed in the presence of Prime Minister Meloni and her host Abdulhamid Dbeibah, who heads the UN-brokered Government of National Unity. The overall investment is expected to have a significant impact on the Libyan economy and the associated supply chain.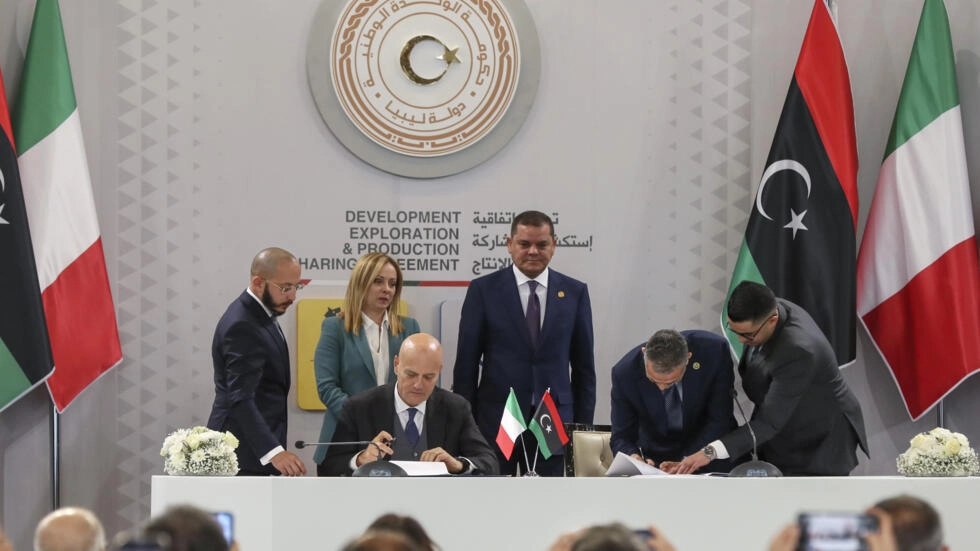 Migration and Political Climate
During her trip to Libya, Prime Minister Meloni is expected to discuss the issue of migration amid rising numbers of irregular migrants from Libya to Italy. Libya is a conduit for thousands of people each year fleeing conflict and poverty across Africa, seeking refuge across the Mediterranean in Europe. Meloni's far-right government took office in October, vowing to stop migrant landings in Italy, which reached more than 105,000 in 2022.
Committed to Making the Future Better
The $8 billion gas deal signed between Eni and Libya's state-run National Oil Corporation is a significant development in the energy industry and will have a major impact on the Libyan economy. The project also includes a carbon capture and storage facility, which will reduce the overall carbon footprint. Prime Minister Meloni's visit to Libya also highlights the ongoing issue of migration and the political climate in the region.
This will not only help to boost the Libyan economy but also provide a reliable source of energy for Europe. The Euro-Libyan Trade Center's efforts will help to ensure that the benefits of the gas deal are maximized for all parties involved, and that the project is executed in a sustainable and responsible manner.
---
Championing Synergistic Growth
The Euro-Libyan Trade Center (ELTC), is a non-partisan, non-profit trade promotion agency working in cooperation with the GUCC to strengthen economic relations between Europe and Libya.
ELTC strategically positions itself as an enabler of transcontinental economic activities, offering a structured platform for entities with vested regional commercial interests. We are dedicated to enhancing operational capacities, broadening market access, and heightening the competitive index of enterprises within the region.
For tailored organisational strategy consultation, kindly reach us at +44 207 193 5556 or submit an inquiry via the provided contact form.
Follow us on: 
Ready to Elevate Your Business?
At the forefront of our mandate to drive economic development, we are dedicated to fostering meaningful partnerships with regional stakeholders, businesses, and professionals across diverse industries, charting a course towards a brighter, shared future.
For inquiries, please complete the form below or reach out to us at +44 207 193 5556