The Tunisian-Libyan Economic Forum is an annual event that provides a platform for businesses from both countries to come together and discuss ways to strengthen economic ties. This year's edition will be held from 12-13 October in Sfax, Tunisia and will feature the Misrata Chamber of Commerce, Industry and Agriculture as the guest of honour. If you're planning on attending, here's what you can expect.
Opening Plenary Session
The opening plenary session will be an opportunity for high-level Libyan and Tunisian delegates to share their thoughts on the state of the economy and ways to further improve bilateral trade relations. This will be followed by a keynote address by a special guest speaker.
B2B Meetings
One of the main objectives of the forum is to facilitate business-to-business meetings between Libyan and Tunisian companies. These meetings provide an opportunity for companies to explore potential partnerships and identify new areas for cooperation.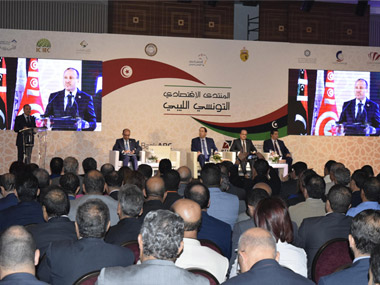 Sessions on Investment Opportunities
In addition to B2B meetings, there will also be a number of sessions focused on investment opportunities in Libya. These sessions will provide attendees with valuable insights into the current investment climate in Libya as well as the latest reforms being undertaken by the government to attract foreign investment.
Closing Plenary Session
The closing plenary session will be an opportunity for delegates to give their feedback on the Forum and its outcomes. This will be followed by a closing address by the guest of honour.
Working for a Brighter Future
The Tunisian-Libyan Economic Forum is a key event for businesses from both countries looking to strengthen economic ties. This year's edition promises to be an informative and productive event, with plenty of opportunities for businesses to meet, network, and explore potential partnerships.
If you're planning on attending, make sure to take advantage of all the forum has to offer! If you would like to assist, please do not hesitate to contact us. And if you're not able to attend in person, don't worry – the ELTC can facilitate your company doing business in Libya through our extensive network of contacts across all sectors. Contact us today to learn more about how we can help get your business started in this exciting new market.
---
Championing Synergistic Growth
The Euro-Libyan Trade Center (ELTC), is a non-partisan, non-profit trade promotion agency working in cooperation with the GUCC to strengthen economic relations between Europe and Libya.
ELTC strategically positions itself as an enabler of transcontinental economic activities, offering a structured platform for entities with vested regional commercial interests. We are dedicated to enhancing operational capacities, broadening market access, and heightening the competitive index of enterprises within the region.
For tailored organisational strategy consultation, kindly reach us at +44 207 193 5556 or submit an inquiry via the provided contact form.
Follow us on: 
Ready to Elevate Your Business?
At the forefront of our mandate to drive economic development, we are dedicated to fostering meaningful partnerships with regional stakeholders, businesses, and professionals across diverse industries, charting a course towards a brighter, shared future.
For inquiries, please complete the form below or reach out to us at +44 207 193 5556