This week, representatives from the Libyan and French governments gathered in Paris to strengthen economic ties between the two countries. The meeting was organized by the Libyan General Union of Chambers of Commerce in collaboration with the French-Libyan Chamber of Commerce and the MEDEF. Topics discussed included investment opportunities in Libya, reconstruction efforts following the 2011 revolution, energy, digitalisation and ways to improve trade relations.
A new era of cooperation with France
In the event, Rt Hon. Mohamed Raied (President of the General Union of Chambers and Libyan Parliamentary member) gave a brief overview of the economic situation in Libya and the great opportunities available for cooperation with France in many fields. He underscored that Libya has considerable capabilities and resources and is in dire need of development in various fields.
In this context, Rt Hon. Raied called on French companies to benefit from the opportunities available in Libya, stressing the importance of resuming economic activity and investment in the country. For his part, Philippe Gautier (General Director of MEDEF) reaffirmed France's keenness to bolster economic relations with Libya. He also expressed hope and positivity on the security situation in Libya will be stable soon, so that French companies can resume their activities in the country.
President Mohamed Raeid's speech was well-received by the audience, and there was a strong sense of hope for increased cooperation. While there are some obstacles to be overcome, such as the reopening of the consulate in Tripoli and the issuance of visas to Libyans, it is clear that there is a desire on both sides to work together.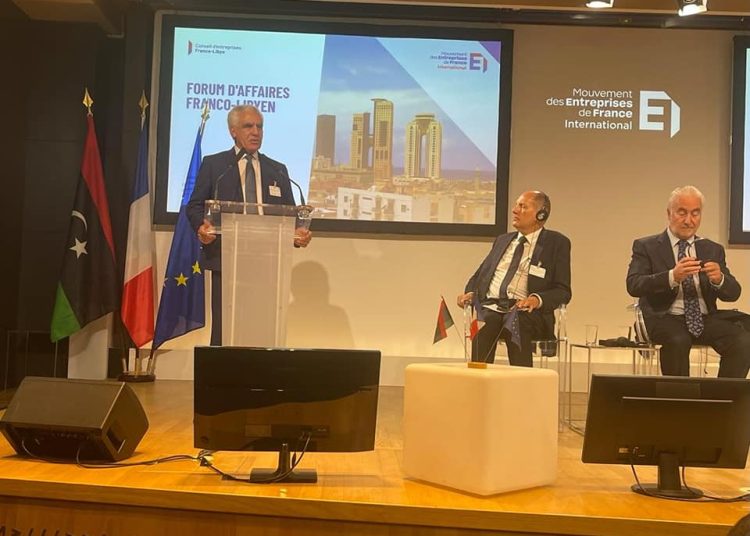 The Future is Bright, but how will it be powered?
While the use of solar energy has been increasing in recent years, there is still great potential for further growth. In particular, solar energy can play a significant role in meeting the energy needs of Libya. While the initial cost of installing solar panels can be high, the long-term costs are much lower, making solar an attractive option for countries with limited resources. Additionally, solar energy is a clean and renewable resource, which is becoming increasingly important as the world faces the challenges of climate change. As such, there is a growing need for cooperation in the production of solar energy – so was recognised in the business forum.
At the same time, the fact that France is a country with a rich history and a keen understanding of the importance of international cooperation was also evidenced in the Business Forum. As Rt. Hon Raied highlighted, Libya is open to the French experience in many different areas, including transportation, infrastructure, education, industry, and trade. France, for its part, has much to offer in terms of expertise and know-how. By working together, the two countries can help accelerate Libya's transition to a more modern and prosperous economy.
A new chapter of friendship
The French-Libyan Business Forum was a clear demonstration of the strong ties that exist between our two countries. France's rich history and experience in international cooperation make it an ideal partner for Libya as we continue to rebuild our nation. The Euro-Libyan Trade Center is committed to facilitating access to the Libyan market, and we look forward to seeing fruitful collaborations take root as a result of this event. So please, don't hesitate to contact us if you need assistance.
---
Championing Synergistic Growth
The Euro-Libyan Trade Center (ELTC), is a non-partisan, non-profit trade promotion agency working in cooperation with the GUCC to strengthen economic relations between Europe and Libya.
ELTC strategically positions itself as an enabler of transcontinental economic activities, offering a structured platform for entities with vested regional commercial interests. We are dedicated to enhancing operational capacities, broadening market access, and heightening the competitive index of enterprises within the region.
For tailored organisational strategy consultation, kindly reach us at +44 207 193 5556 or submit an inquiry via the provided contact form.
Follow us on: 
Ready to Elevate Your Business?
At the forefront of our mandate to drive economic development, we are dedicated to fostering meaningful partnerships with regional stakeholders, businesses, and professionals across diverse industries, charting a course towards a brighter, shared future.
For inquiries, please complete the form below or reach out to us at +44 207 193 5556